5KW Medical Portable X-ray Machine
It can be widely used in the examination and diagnosis of human limbs, and is suitable for medical institutions such as hospitals, clinics, physical examination centers, ambulances, disaster relief, first aid, etc;
| | |
| --- | --- |
| Model No | FT-100DZ |
| Color | WHITE |
| Power | 5kW |
| Input power type | 220~240VAC |
| Photography KV range | 40kV-125kV, 1kV step |
| Photography mA range: | 10-100mA |
| mAs range | 0.1-200mAs |
| Exposure time range | 1 -4000ms |
| working frequency | 100kHz±10% |
| Weight | 15KG |
| Host size | 36.5(L)×24(W)×21(H)cm |
| Inverter method: | PWM(Pulse width modulation) |
Details about 5KW Medical Portable X-ray Machine
Product features
1. Produced by high-frequency inverter technology, the stable high-voltage output can get good image quality;
2. A compact design, easy to carry and work in different regions and locations;
3. There are three exposure control methods: remote control, hand brake, and interface buttons;
4. Fault self-diagnosis and self-protection;
5. With a flexible digital interface, users can go deep into the core programming
control and can adapt to different DR detectors.
2. It is easy to carry and work in different areas and locations, and can be used for X-ray photography in the field and on special occasions;
Mobile easy stand
The optional mobile rack is flexible and convenient, which can meet the requirements of different workstations, and can be used as a bedside shooting in a hospital ward;
DR flat panel detector
It can be used with the DR flat panel detector to form a DR digital X-ray photography system.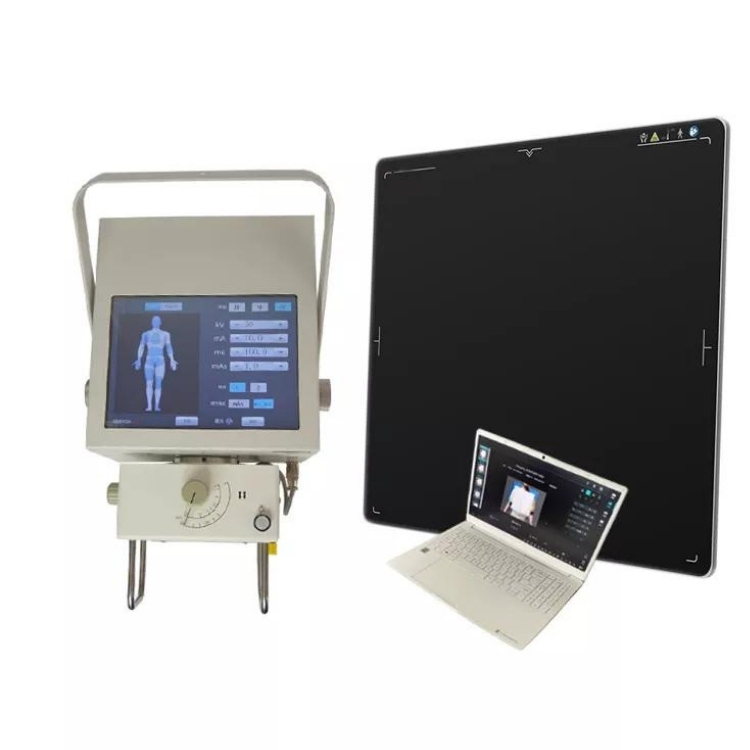 Share 5KW Medical Portable X-ray Machine With Your Clients